And They Came Again
Diplom Gestaltung
Prof. Eike König
Diplom Theory
Prof. Dr. Christian Janecke
18 May 2019
The starting point for my design Diplom thesis was the question: how can I create an additional level of narration through illustration in order to develop something from the narratives that they alone are not able to do? Three short stories by the writer Raymond Carver, relating to interpersonal conflicts, have been used to create illustrations that are spatial in nature. The illustrations meet in a different and real place, thus combining to form a new, fourth story. The characters are moved from their narrative space into an actual space and therefore enter into a dialogue with the viewer. All the characters – and with them their observers – become actors in the new place and narrative becomes entangles in this encounter.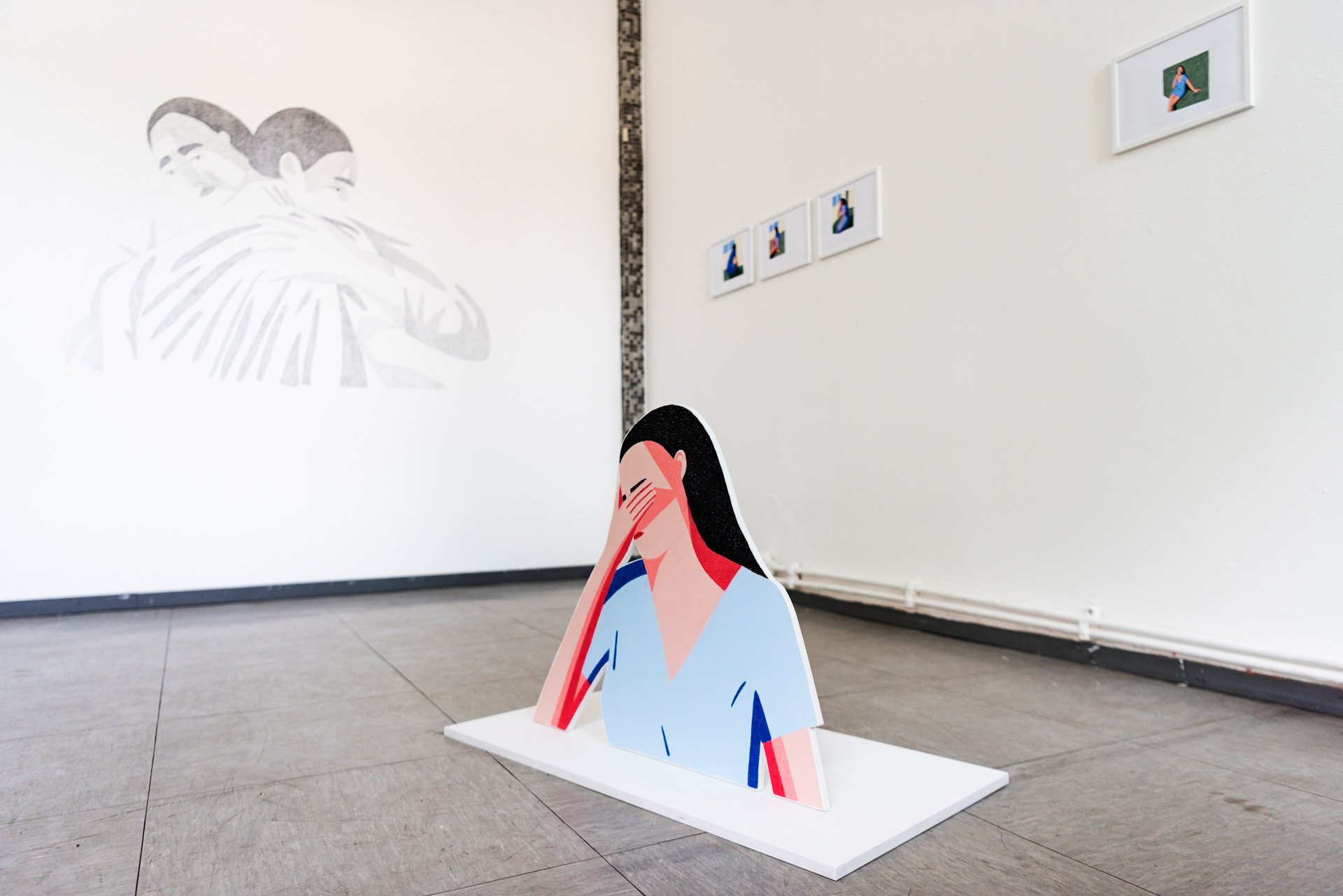 Luzides
Diplomnebenfach
Prof. Eike König
WS 2016
"Jemand verfolgt mich, ich bin mir nicht sicher, wer es ist."
Illustrationen und selbstgeschriebene Kurzgeschichten, inspiriert durch das Thema luzides Träumen, zusammengeführt in drei Faltbüchern. Durch Auf- und Zufalten wird jeweils eine Geschichte sichtbar, während eine andere verdeckt wird und sich immer wieder neue Bild- und Textvariationen ergeben.
Distanz
Vordiplom
Prof. Eike König
WS 2013
cv
2015 Studium Illustration, Burg Giebichenstein, Halle/Saale bei Prof. ATAK
2017 Werkstatt für Bucheinband, Kursleitung Grundstudium Design
2017 Studium Illustration, Hauté école des Arts du Rhin, Strasbourg/ France
2018 Diplom HfG, Schwerpunkt Illustration
2018 Seit Juli: freiberufliche Illustratorin
Exhibitions
2019 Lancement KIBLIND #67 'Relou', SOFFFA, Lyon, France
2016 Offenbacher Hängung, Koenigsklasse, Ninasagt Galerie, Düsseldorf
2016 ATAK. Das Wunder von Berlin, als Teil des Semesterprojektes Cartoonmuseum, Basel
Awards
2018 Rundgangpreis der FAZIT-Stiftung