4×6×8
Diplom Gestaltung
Prof. Heiner Blum
Diplom Theory
Prof. Dr. Marc Ries
1 November 2018
How do people deal with themselves and their own portrayal when they have to consciously deal with their mirror image once a week, over a period of half a year? What happens next when this mirror image is photographed by the people themselves and later exhibited, according to their own criteria, and always in such a way that one can stand behind this image in public?
The long-term project has devoted itself to this question and examined individual behaviour with this situation. Can patterns or tendencies be recognized? What experiences have the participants had during this time?
The more than 300 photos and interviews that were taken during this period reflect the development of these people in their dealings with their own representations to the outside world.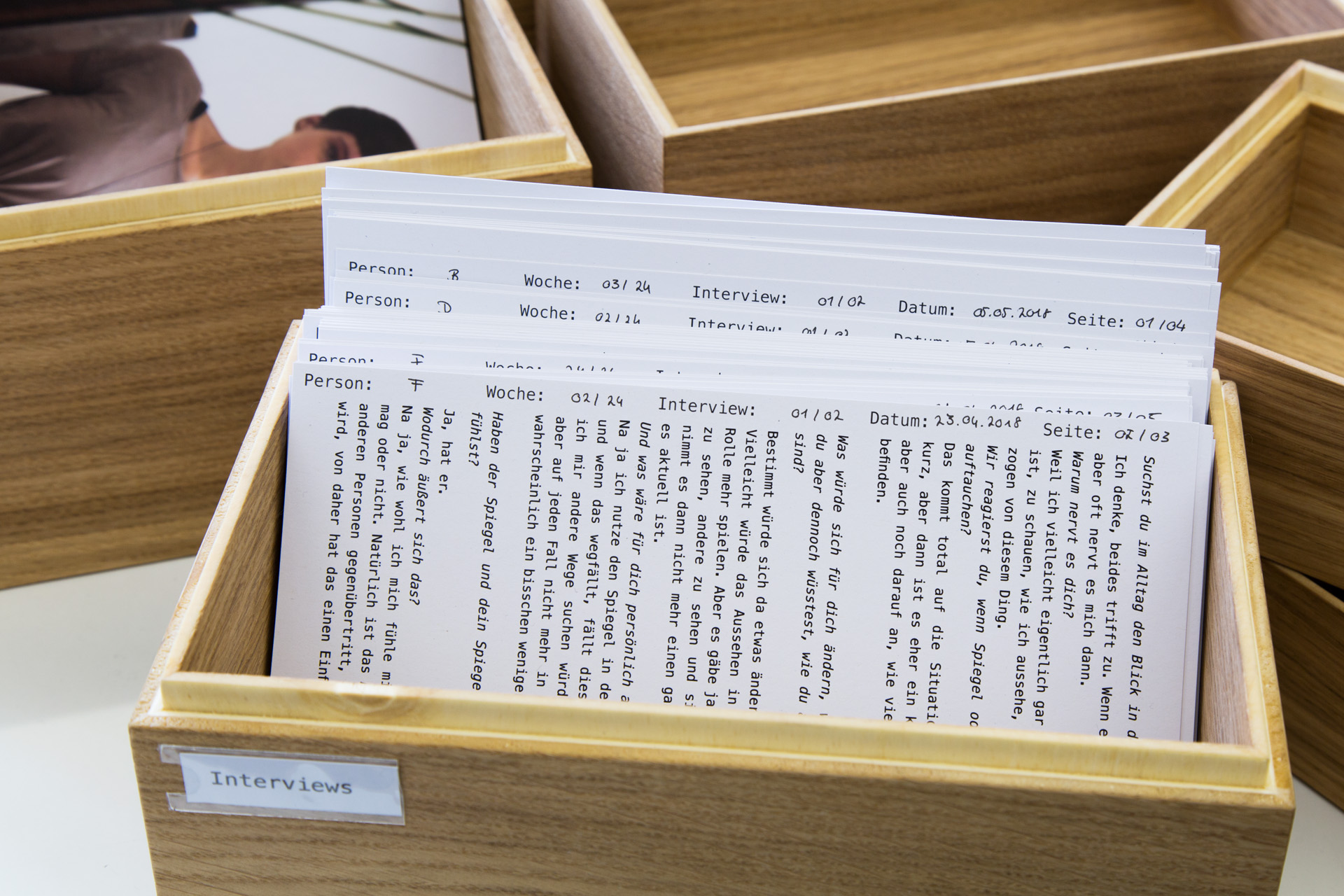 cv
Juliane Kutter, geboren 1988 in Frankfurt. Studium an der HfG Offenbach mit den Schwerpunkten Fotografie und Experimentelle Raumkonzepte. Thematisches Zentrum ist die Untersuchung von sowohl zwischenmenschlichen Beziehungen untereinander als auch der Beziehung von Menschen zu sich selbst und der eigenen Darstellung dieses Selbst.
Exhibitions/Projects
Selection
2019 Frankfurt Preungesheim

Plakatausstellung im öffentlichen Raum
2016 Freies Buchprojekt Riederwälder Augenblicke
2015 Architektursommer Rhein-Main: Licht- und Videoinstallation
2014 Mousonturm Frankfurt: interaktives Musikprojekt Evakuieren